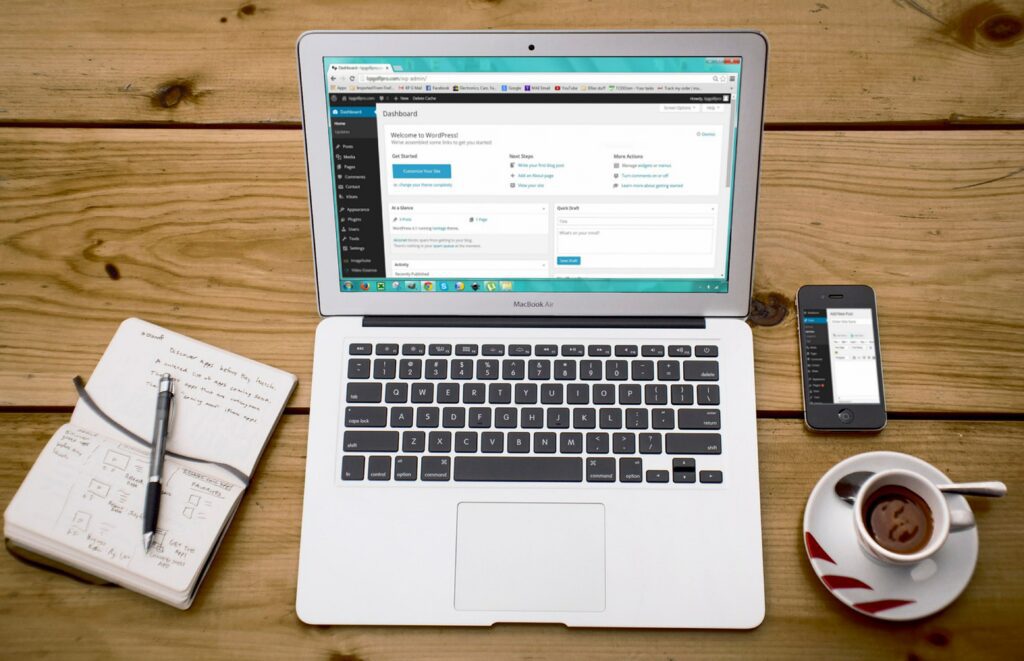 At any given moment, millions of websites are besieged by malware, with the average site enduring an alarming 94 attacks each day. This statistic includes both WordPress and non-WordPress platforms.
A security breach can wreak havoc on your business in numerous ways. Here are some potential consequences:
Cybercriminals may leave with your data, or even worse, your users' and customers' information.
Your compromised website could become a vessel for spreading malicious code to unwary users and other sites.
You could lose data, be denied access to your website, be locked out entirely, or find your data held for ransom.
Your website might be vandalized or obliterated, which would negatively impact your SEO rankings and tarnish your brand's reputation.
While it's possible to scan your WordPress site for security vulnerabilities at will, rectifying a hacked site can prove challenging for those without technical expertise.
To prevent a cyber attack, it's vital to implement security best practices for your website. For your convenience, we've aggregated these strategies into a straightforward, step-by-step guide for WordPress security beginners.
A critical step in safeguarding your WordPress site involves using a WordPress security plugin. Such plugins augment your WordPress security measures and aid in thwarting brute force attacks on your website.
Let's delve into some of the premier WordPress security plugins and explore how they can help protect your website or blog.
Absolutely, let's dive into a more in-depth analysis of the top 10 WordPress security plugins.
Note: You only need to use one plugin from this list.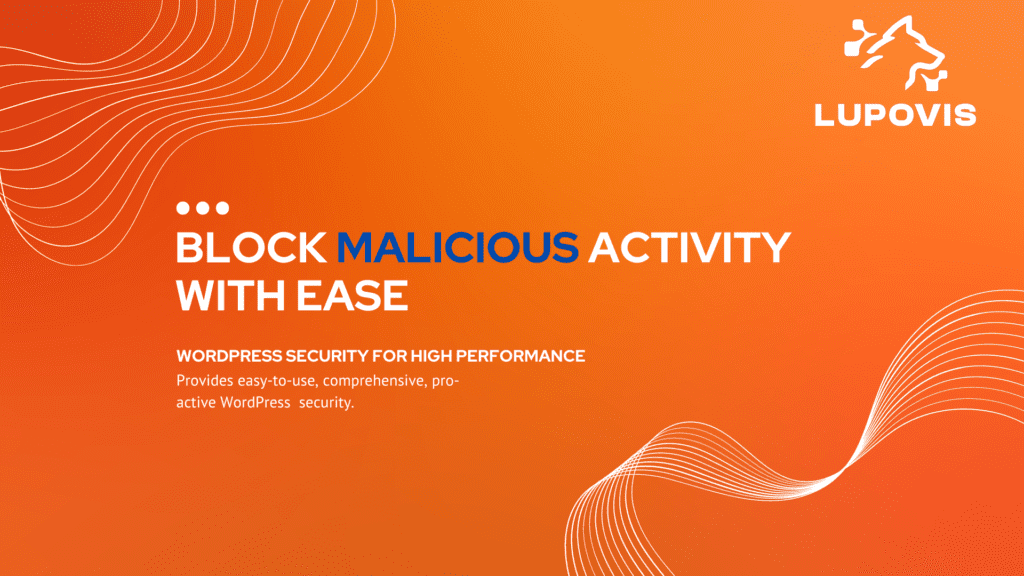 In an era where cyber threats are becoming increasingly sophisticated, safeguarding your website from brute-force login attempts is more critical than ever. These hacking attempts can jeopardize your site's security and consume substantial server resources, negatively impacting your site's performance, especially if it's on a shared server, and potentially leading to account suspension. For those utilizing cloud-based services like Amazon Web Services (AWS) EC2 or Google Cloud Platform (GCP) Machine, these hacking attempts can significantly increase bandwidth usage and server costs. However, with the advanced Lupovis Prowl Security plugin, you can effectively counter these challenges. This plugin uniquely leverages a peer-to-peer (P2P) blocking mechanism, making it far more effective than other solutions on the market, without producing false positives.
Lupovis Prowl Security offers a suite of sophisticated features to secure your site. It employs advanced AI techniques for Automatic Blocking in response to suspicious activities, among others.
Lupovis Prowl Security guarantees robust security without compromising your site's speed, performance, and usability.
By blocking unwanted/spam IP addresses, you not only prevent spam but also protect your site's valuable content from being scraped by these IPs.
Here are the key features of Lupovis Prowl Security:
Auto-blocking of brute-force attacks
Auto-blocking of IPs upon detection of suspicious activities
User-friendly with no technical knowledge required
Maintains native WordPress look and feel
Pay-as-you-go pricing
The only plugin where you only pay what you consume at $0.02p per request ! Making it much simpler to manage.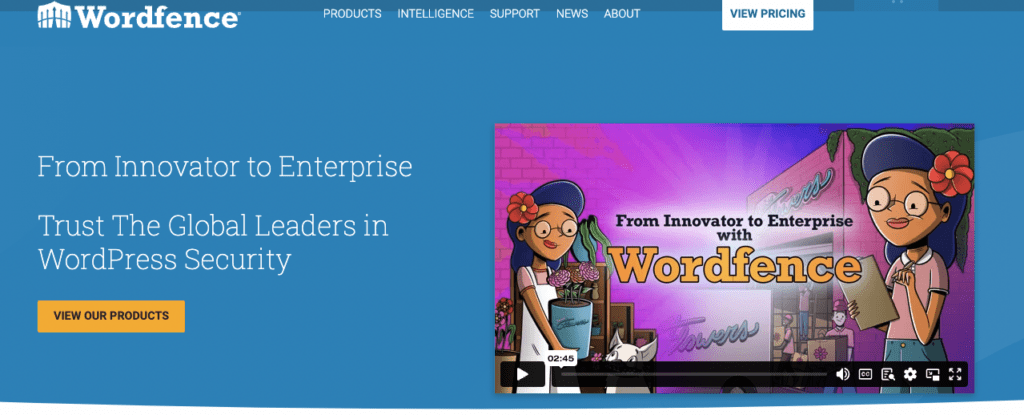 Wordfence has consistently been a top choice for WordPress security. It provides a comprehensive solution through features like a Web Application Firewall (WAF) that identifies and blocks malicious traffic, and a real-time threat defense feed that protects your website against the newest security vulnerabilities. A robust malware scanner checks core files, themes, and plugins for malware, SEO spam, malicious redirects, and code injections. Its Live Traffic view gives you real-time visibility into traffic and hack attempts on your website.
---

Sucuri is a well-known security platform that offers a wide range of services, including a WordPress security plugin. It provides various features like security activity auditing, file integrity monitoring, blacklist monitoring, and security hardening. It also offers a website firewall add-on, which is available in their premium plans, that keeps your site safe from potential threats.
---
4. All In One WP Security & Firewall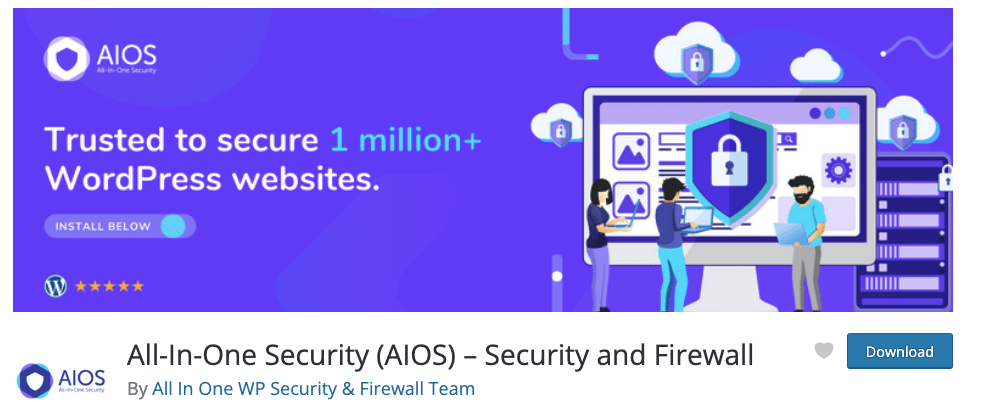 All In One WP Security & Firewall plugin is user-friendly and reduces security risks by adding recommended security practices. It offers three categories of features: Basic, Intermediate, and Advanced, allowing you to apply security features gradually. It includes a security scanner that keeps track of files and detects any changes, a firewall that provides protection against various threats, and a blacklist feature where you can set certain requirements to block a user.
---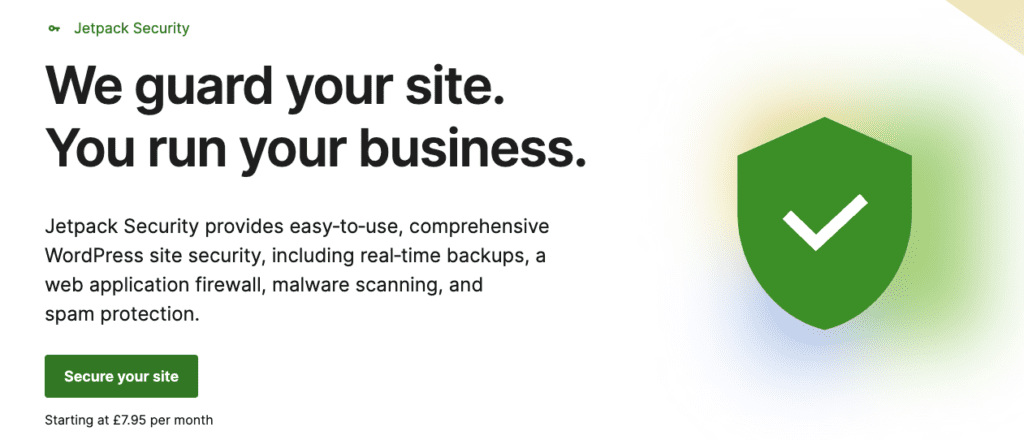 Jetpack is a powerful plugin from the creators of WordPress.com. Jetpack Security provides easy-to-use, comprehensive WordPress site security including backups, security scanning, and spam protection. Its activity log lets you track every change made on the site, providing a record when troubleshooting or auditing. Premium plans also offer real-time malware scanning and an automated threat resolution.
---

BulletProof Security plugin offers a one-click setup wizard, making it quick and easy to set up. Its key features include login security and monitoring, database backups, and anti-spam and anti-hacking tools. It also offers a maintenance mode that lets you securely make changes to your website, database prefix changer, and a hidden plugin folders option to further harden your website.
---

MalCare is a comprehensive security solution that's designed to provide complete protection for your WordPress site. It's known for its advanced malware detection technology, which doesn't overload your server. It offers a one-click automated malware removal, a website hardening feature, and login protection to ward off brute force attacks. It also has a website management module to help manage multiple sites.
---
8. SecuPress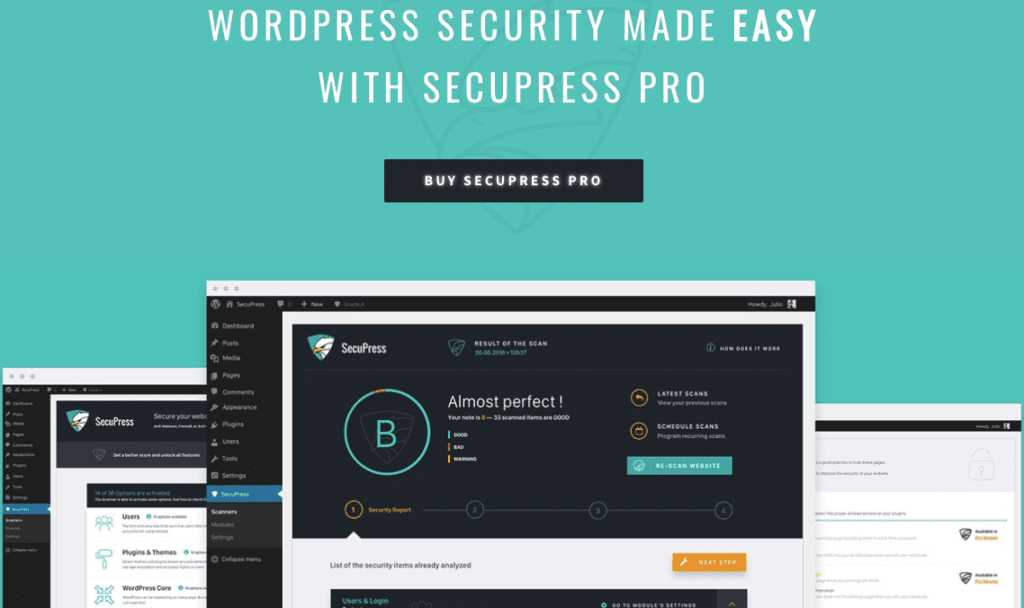 SecuPress is a freemium all-in-one security plugin for WordPress. It scans your site for vulnerabilities, malware, and other potential threats. Its user-friendly interface helps you secure your site quickly and efficiently. The pro version includes features like alerts and notifications, two-factor authentication, geo-blocking, and PHP malware scans.
---

Defender Security plugin offers a range of features to make your site more secure. These include two-factor authentication, IP blacklisting, a firewall, and a robust scanner that checks for malicious files. It's known for its user-friendly setup and interface. It also sends regular reports to help you stay updated on your site's security status.
---
10. Shield Security

Shield Security focuses on simplicity and user-friendliness. It offers features like blocking of all automated comment spam, limiting login attempts to ward off brute force attacks, powerful email identity verification, and a user-friendly guided setup. It also includes a firewall, two-factor authentication, and blocklists to further strengthen your website's security.
Conclusion
Ensuring your website's security should be a top priority in this digital era. With a myriad of potential cyber threats lurking, it's crucial to safeguard your online assets. Fortunately, WordPress offers a wide range of powerful security plugins to protect your site.
From comprehensive solutions like Lupovis, Wordfence and Sucuri, beginner-friendly options like All In One WP Security & Firewall, to robust premium offerings like Jetpack and iThemes Security Pro, there's a plugin to cater to every need and skill level.
Remember, using a security plugin is only one part of a broader security strategy. Regular updates, strong passwords, and vigilant monitoring are also pivotal in maintaining a secure WordPress site.
Your website is a digital reflection of your brand, and it's well worth investing time and resources to protect it. Choose the right WordPress security plugin and have peace of mind knowing your site is well-protected against malicious activity.
Thank you for joining us on this journey to explore the top WordPress security plugins. We trust this guide has been useful in helping you make an informed decision. Here's to a safer and more secure WordPress experience!